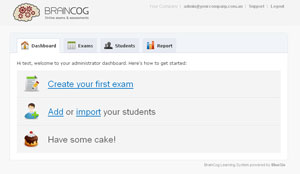 Create an Educator account. Customize your brain-cog.com domain name. e.g. http://nasa.brain-cog.com
Create your first exam

Setup the exam details: name of exam, number of questions, passmark, time limit
Customize the messages: student invite email, pass/fail messages, reminder message.
Enter in your questions and answers - as many as you like. Questions are multiple choice. You can have as many choices as you like.
Creating more questions than will be asked during the exam means greater chances of a unique exam for each student. For example, your exam might only be 10 questions long, but having 30 questions in the "pool" means that most students will get different questions - and they'll all be in different order.

Setup/Invite your students. Bulk import them from an Excel spreadsheet for instant setup!
Students sit the exam. Questions are randomly selected from your questions "pool" to reduce cheating. Exams are automatically marked and a results email sent to the participant.
Comprehensive reporting lets you see trends over time, and also view individual student responses.