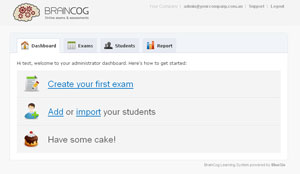 BrainCog allows you to quickly and easily create online training courses for your students, no matter what school, university or industry they're from.
Just create an account
After logging in to the Educator section, create your first exam by completing the relevant infomation (how many questions, pass mark, etc)
Create your questions and answers
Import your list of students and automatically invite them to take the exam with a few simple clicks!
Sit back and relax as your exams are marked instantly and automatically!